When I say I'm on a budget, I mean I'm on a budget. I've probably got enough money to pay the bills and then enough for a box of wine and lunches until payday. This does not mean that I have 30 disposable dollars to spend on a new shirt or concealer, but I might have $2 I can part with for a dope alarm clock with a floaty fish in it (keep reading)!
And I know I'm not alone in this, a lot of us struggle with the paycheck-to-paycheck life. That's why I'm writing to you guys today about two legitimate online stores that I've recently run across and decided to put to the test. The first is a largely cosmetics centered store called Miss A that only sells one dollar products. The other is Hollar, which claims to be another online dollar store but also carries your favorite products at severely discounted rates in limited quantities.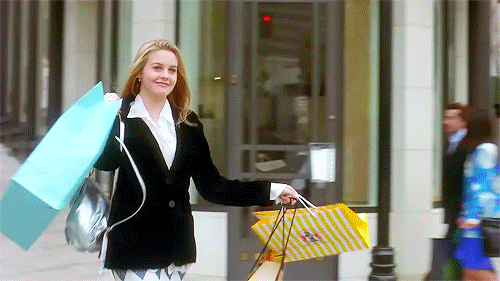 Lemme hit you with the fact that this "online dollar store" sells everything: clothes, school supplies, non-perishable foods, cosmetics (of course!), technology, baby supplies, kids toys, and essentials like garbage bags, toothpaste, and laundry soap. I'm going to follow that up by reminding you all that the reason I am mentioning this store in the first place is because we all wanna know where the real deals are. I bought a 4 oz. hibiscus and coconut scented perfume for $1, a floating fish alarm clock for $2, and Revlon's Photo Ready Airbrush Mousse Makeup for $3, amongst a couple other things that got me up to the $10 limit. As a mater of fact, I haven't seen anything on this site for more than $9 since I've started stalking it.
I can hear you slamming on the breaks already. Seriously, hear me out. A 10$ purchase limit make sense you when take into account how much money these guys would lose in shipping if they sent everybody a $20 product for a buck or two. Plus, it's almost guaranteed that the first item you put in your cart was originally worth more than $10 to begin with, so it's sort of like a buy-on-get-nine, or five, or whatever- free!
Also, before you get thinking too hard, read this block quote from an article on the history of Hollar:
The other hurdle Hollar has to cross is winning customers' trust that the products on its site aren't scams or knockoffs, but the real thing.
People assume a $2 toy is low quality, but Yeom insists Hollar has been selective about the manufacturers it partners with,.
Many of the items it receives are from closeout sales, so yes, that OPI nail polish is really OPI and that box of Oreos really are Oreos. Its beauty section sells brands from Revlon to L'Oréal. Its snack food section has items like Cheerios and Kraft Mac and Cheese. The $1 pregnancy test it sells is just as FDA-certified as the ones you can pick up for much more inside a Walgreens.
So, hopefully that helps put to rest any "it's too good to be true" ideas you had knocking around the inside of your head. But if you still don't believe it, check back soon because my package is on the way! (So, add speedy delivery to the pluses for these guys!)
Plus, Hollar comes with a really great $2 referral incentive that works both ways.  You receive a referral link and each person who clicks it, and actually buys something off the website, will earn $2 credit to their account. In return, you also got $2 in credit added to your account. Best part is, there is no limit to the number of people you can refer, so long as they're not returning customers or somebody in your household.
Everything about this is pretty great, right?! And, if you're like me and love stocking up on essentials with great deals, you'll be even happier to hear that Hollar waives their shipping fee after you spend $25. But be sure to shop fast. While the "only X left in stock" banners may seem like a stupid gimmick to make you buy something, these guys really do only have so much stock on hand. You will need to move fairly quickly if you want the last one of anything. That's half the fun though, along with sweet deals and a constantly changing inventory to scroll through.
Here's the scoop on Miss A: they sell everything beauty related for $1, including lashes, brushes, lipsticks, nail polish, and hair ties.
The catch: you get what you ask for, but the quality isn't always there. That said, I ordered a variety of things from them and was pleasantly surprised by the quality some of the $1 products where packing.
But, honestly, I think that's all part of the fun. Somebody once told me you can make anything work if you just try hard enough–and I think that's especially true with budget cosmetics (remember having to heat your eyeliner pencil up with a lighter to actually get any pigment out of it? That's the shit I'm talking about).
Shop Miss A makes getting a hold of cheap makeup super easy by carrying what feels like full lines by companies such as: E.L.F, AOA Studio, L.A. Colors, Rich On, Amuse, and
Santee. Shopping is made even easier by the amount of choices given so far as specific searches go and by the reviews displayed with each product. There isn't much to say about this store other than it's a budget friendly way to get creative and find awesome new staples for your cosmetics table. This is also a great store for buying fun gifts such as wine shaped and colored lip stains or Frappuccino dust plugs for your cellphone. And for a dollar, can you really go wrong?
For the record though, some sets and collections cost a dollar an item or less. But that's still a steal: 24 new brushes for $20? Count me in.
I plan on writing a review of the Miss A products I purchased last week to give you guys an idea on what you may want to add to your cart right now or save your dollar on. If you're in a hurry, I suggest watching this YouTube video by Laura Lee, which is where I learned of ShopMissA.com:
So, moral of the story: there ARE actually places on the internet where you can get high quality products without having to spend an arm and a leg. Be sure to check back for my full review on the products I've received from these two sites. In the mean time, happy shopping, and don't forget to leave a comment saying whether you've ever bought anything from these guys or any other legitimate, online bargain stores you love buying from.
Lots of love,
Catlin