Alright, peeps. If you didn't know, I currently work at a thrift store- the same one for the last 3 years. Lord knows I've have my good times and my miserable ones with that place, but it never stopped being home because eventually your co-workers become your friends and family after you've spent so much time with them.
But the day has finally come that I gave my official two-week notice. And shit, was it ever hard. Firstly because I already miss by bro-pals, secondly because I knew my managers wouldn't much like the news, and thirdly because the entire thing gives me anxiety on a level I cannot describe.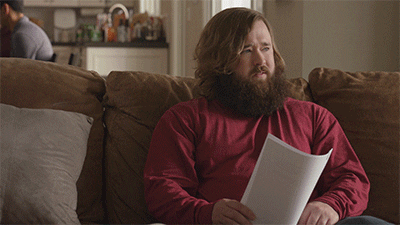 But I was not destined to be an entry level employee at a thrift store for my entire life, and with all of the inevitable changes coming up in the next few weeks, it feels like the right time for a switch in careers. In order to be closer to home, and make a little more money, I started throwing my resume out here and there, not trying especially hard but not slacking off either. Eventually I got a call from a store in the mall asking if I would be interested in setting up an interview with them.
And I am like, "… Yass". So it is set for the next week at 11:30, just walk in and ask for M****. Can.fuckin'.do.
In the mean time I don't tell many people because I don't need that getting out and having my managers on my ass preemptively. And I didn't start getting nervous about it until the day before the interview. I kept telling myself, "Getting this job would be an awesome bonus in life. But if it's not meant to happen right now, that's okay. You still have your thrift store fam. No bridges burned. Let's keep it that way." But of course, that doesn't really help with anything.
Most of my anxiety reaches its precipice when I feel like I have no control over a situation. In order to make myself feel better about something, I have to make sure I am prepared and know what to do if something goes horribly wrong (although, let's be
honest: it never does). One of my coping mechanisms for the interview was to have "the perfect outfit" picked out long before the actual interview. Thankfully my mom-squad is pretty dope and was up for the challenge immediately. I jumped into my grandma's van one afternoon and we spent hours milling around the mall with my mom, hunting for the necessary ensemble pieces: blackonblackonblackonholonails. We all had my Pinterest inspiration photo saved to our phones for ease of reference: shit was getting real–and we had an equally real budget of, like, $0.50.
After finally nailing the outfit down I went straight into worrying about what my makeup was going to look like, as being at a cosmetic counter will (hopefully) be part of my new job really soon. I spent 2 hours practicing a perfect "natural" bronzy face with a lightly smoked out brown shadow and satin pink lips. At this point, I came to realize I was about as prepared as I could be (considering I had been interviewing myself in my sleep over the last 3 nights).
Eventually the interview day arrives and I can't eat anything all morning because I'm so anxious I'm nauseous and sure I'm going to die. I eventually get myself into my Worthington's ankle slacks, a black sweater from the GAP with the sleeves pushed up my forearms and the front tucked into my pants, and my sick new grandma kicks (Walking Cradles, hahahahaha, wut?). I slap my face on in record time and pull my hair out of my face with a clippy and regret having got up so early because now I've got "time to waste" which really means "time to psych myself out".
Time goes by so slowly I think we may have reached the apocalypse. Yet I find myself in the truck, my holographic nails digging into the palms of my hands and my heart threatening to jump out my damned throat. I tell Jeremy, "You can't go in with me, it'll look like you're my babysitter", which makes him laugh, but he understands. He reminds me that I am going to slay the shit out of this thing and that he'll see me soon before he starts walking towards a different mall entrance. I take a deep breath and realize that the closer I get to the door, the less nervous I am. Same thing always happened with presentations in school: I'd about shit myself from the anxiety build-up, knowing that I was going to have to get up there and talk soon, but as soon as I got up front all those nerves straight up died and I spoke with no problem at all.
I have no idea if there is a name for this, or if anybody else experiences it. But I absolutely hate anticipating things or having to wait because it's always the same thing: freak out… zen out.
To be continued…